Complexity Trends 2021
A SenseMaker® study: December 2020/January 2021
Toward the end of 2020, we conducted a SenseMaker® study to understand the experiences that our network has had with the disruptions that last year presented. All of us have experienced significant changes in our environments, regardless of the type of organisation or industry we work in, or where in the world we live in. We wanted to understand your experiences and observations of 2020, as well as get a sense of the decisions or key challenges caused by these changes that lay ahead of you this year.
Whilst the uncertainty from the disruptions has caused anxiety for many, we found it encouraging that of the 349 entries we collected over one week, that 51% of you described the decisions and challenges that lay ahead as Positive, and 19% as Strongly positive. We have been working with many of our clients and partners to uncover the opportunities that lay in uncertainty, and we are glad that there remains a resilience and adaptability in our network.
Our 2021 Complex Trends study revealed that most organisations are seeking new and more useful ways of engaging with the stakeholders, customers and employees. Engage your ecosystem in a more organic way, and embrace more complexity-fit data and analytics to inform your next key decision, and address the challenge that lies ahead with the wisdom of your community.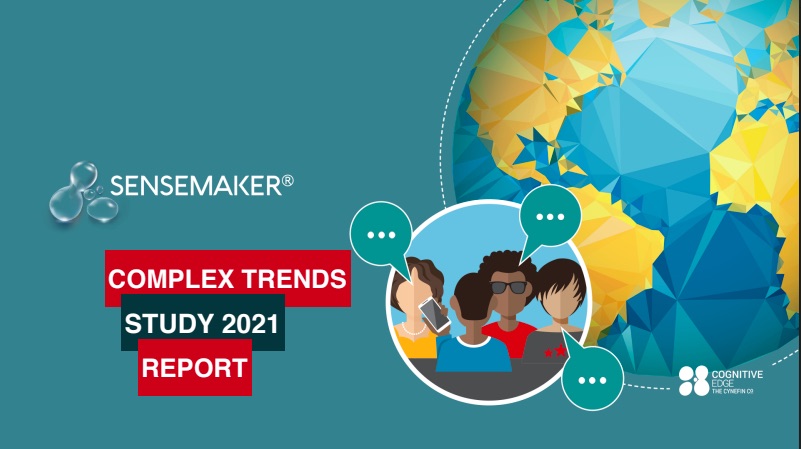 To read further or watch the recording,  sign-up for the listed membership or purchase the listed product/s.
TERMS OF USE
Cognitive Edge Pte Ltd. (Cognitive Edge) are making this material available as a contribution to understanding of the role of complexity theory in understanding the current pandemic and its consequences.
This video is owned by Cognitive Edge, it's licensors or other providers of such material, and is protected by United States and international copyright, trademark, patent, trade secret, and other intellectual property or property rights laws. Your membership or product purchase provides you with access to this video and permits you to use it for non-commercial use only. No right, title, or interest in, or to, the video, or any content in the video, is transferred to you. All rights not expressly granted are reserved by Cognitive Edge. Please note that you must not reproduce, distribute, modify, create derivative works of, publicly display, publicly perform, re-publish, download, store, or transmit this media.